FoxyMan
52, Bangor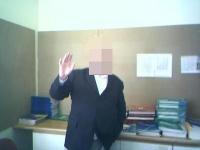 Divorced, Cuddly body
6'0'' (183cm) or above
Looking for: Friendship, Short Term Relationship, Long Term Relationship, Romance & Fun, Casual, See how it goes
Caucasian/White, Non-Smoker, Light / Social Drinker
Occupation: Education & Science
Education: Graduate/Masters Degree
Eye Colour: Brown
Hair Colour: Auburn
Religion: Methodist
Looking for Female between the ages of 30 and 49
Star Sign: Libra
Last Active: Within 1 Week
About Me:

Update: It seems that I have not be clear on my profile, I am a Master, seeking a clever and fun sub. Due to COVID - 19 one is not meant to shake hands or anything else, thus will be back when things get normal, depends how you define NORMAL these days!


Ladies I have been thinking, always a worry, just because the man is not quite Mr Clooney or Mr Pitt, or any one else, give him a chance, if a man is perfect what is doing on here, lets be honest, so less perfection and more on who is on the inside. I am sure a man wants the combination of a Victoria secret super model and the sex appeal of FHM cover Lady. Are they going to be on here, I would guess NO, it not about settling, its about giving something a chance, at the end of day a glass of wine and the remote control is not much comfort, sorry about being direct, but sometimes ladies you can drive a man to think, man and thinking takes up time from watching Formula 1 or other some sport rubbish!!


Hi, I am funny, warm, caring, have passion, sensual. When I have the time I like to go to the theatre or to the Cinema in London. I have a great interest in History and the Arts so London again. All my friends are married and I am single enough said!!. My perfect meal could be a with right person, so formal or fish and chips. Would like to meet a married woman, who must be very discreet, but would like to develop a passionate,sensual relationship but based on a no strings view. I have no wish to create break ups so as stated a Intelligent woman who likes the game but knows the rules from the start. I think honesty is always the best policy as it creates total trust in all areas and thus can lead to total satisfaction.Appearance, I would say smart, very short hair, my smile is my best feature. If you smile the world smiles with you, these days we could all do with that nice feeling of peace that comes with a smile. Clothes I am smart without being over the top.
Ideal Partner:
Hi Ladies, I guess we are all looking for that special someone, but within this context, a friendship, sensual and passionate affair, NO BOAT ROCKING, just fun, fun and passion. Looks do no matter, its the character inside that counts, so what am I looking for, good question, an intelligent lady, an interest in the arts would be nice, but not a deal breaker, someone who can give the soaps a miss, likes to visit the Theatre or historical sites or buildings/ also the odd drink!!. As to why I am looking for a married woman or someone in a relationship that is easy, I want and need total honesty, a woman who tells me what she wants and expects 100% in the agreed time. Would like to start with texts, emails then mobile chats, am in no rush, but not interested in just a cyber relationship, nice to meet up, nice hotel, city outside of our area, so can kiss, love to kiss and cuddle, etc, hold hands in public, but in area were we will not meet out local postman! Thus looks or height does not matter, a understanding of the rules of the game, fun, great passion and sensual delights, no guilt trips, also kind friendship, but also the understanding that the day will come that either side might just end it, no anger, no sorrow, again no guilt trips, JUST FUN. Thank you for reading this profile, good luck in your search.
Other Interests:
Arts / Crafts, Museums / Galleries, Music - Country, Music - Classical / Opera, Music - Dance / Electronic, Nightclubs / Clubs, Politics, Literature / History, Cricket, Football / Soccer / Rugby, Dancing, Computers / Internet, Theatre / Ballet, Travel / Sightseeing, Volunteer / Charity, Movies / Cinema, Food and Wine
Gifts Received Recently :






Currently online:
Registered Users: 675