Leaghbean
38, Chester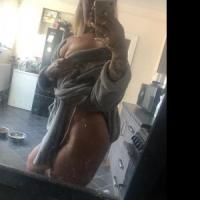 Married, Athletic body
5'2''-5'6'' (157-169cm)
Looking for: Friendship, Romance & Fun, Casual, See how it goes
Caucasian/White, Non-Smoker, Non-Drinker
Occupation: Healthcare & Medical
Education: Technical training/Diploma
Eye Colour: Green
Hair Colour: Blonde
Religion: Agnostic/None
Looking for Male between the ages of 24 and 49
Star Sign: Pisces
Last Active: She's waiting for you!
About Me:
I can't always get on here for some reason so catch me on kik. Leaghbean2, anyway about me I'm married and bored I need mental stimulation and to feel alive again, I love the gym and work in the care industry which takes a lot of my time. I have a few tats and piercings so if that's a put off no point messaging me, I'm a big joker loves to take the mick and have a laugh. I'm open minded flirty and very sensual! I do enjoy being able to tease any man I'm with at the most random safe times ofcourse 😏 if I don't reply don't be offended I was trying to reply to messages but no point unless I'm interested if I'm honest and I'm not wasting both our time, I'm reserved until I know you so don't be pushy it's a turn off if we click it will come remember this is a very delicate situation for us both and we need to make sure it's totally right! I don't sleep around so if we do end up meeting and getting on I give my total attention to that one guy not multiple. I'm not looking for a new partner just a lover who can please me when needed and will be pleased fully in every way possible in return I'm not selfish 😏 I expect total honesty from any lover I take on so if your busy just say don't start making lies up simple 😉. I'm not stuck up not materialistic at all I'm just a simple girl with simple needs 😜
Ideal Partner:
I'm looking for someone who has a personality that can make me laugh someone who pays attention. A guy who is in similar situation with relationship who isn't expecting to change it but wants fun and attention, I want someone who makes me feel butterflies again at the thought of them. Puts a smile on my face when I get a message in return I like to give any guy I'm interested in my attention and make them feel important wanted and desired fully 😏. I want to be that woman for one guy that makes him smile when he gets my messages I want to make him throb at the thought of the things we do when we are together just pure filth! I don't like pushy guys and if you offend me which is very hard but possible don't expect me to answer I don't accept rude men honesty and manners goes a long way for me! Don't be desperate take your time I'm worth it for the right guy I make sure of that!
Other Interests:
Music - Dance / Electronic, Nightclubs / Clubs, Music - Pop / R&B, Boxing / Wrestling, Gym / Aerobics, Athletics, Movies / Cinema
Gifts Received Recently :






Currently online:
Registered Users: 1,070