tea_coffee_me_
49, Manchester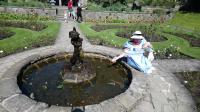 Separated, Average body
5'2''-5'6'' (157-169cm)
Looking for: Friendship, Short Term Relationship, Long Term Relationship, Romance & Fun
Other, Non-Smoker, Light / Social Drinker
Occupation: Homemaker
Education: Bachelors Degree
Eye Colour: Brown
Hair Colour: Brown
Religion: Other
Looking for Male between the ages of 40 and 68
Star Sign: Capricorn
Last Active: Within 24 Hours
About Me:
I am discreet (and discrete) your privacy is safe with me, I do NOT use facebook, twitter or other social media.
PLEASE NOTE I do not reply to a VK... if you read my profile you will realise why ...
(If you have forgotten you have previously blocked me and message, I hope your are not complaining people do not reply.)

Ohhh virtual gifts, thank you all (curtsy)
So looking forward to them arriving ;-) :-D

If you are looking to
- collect photographs
- a virtual affair
- never provide a photo
- never provide your phone number
... you will be wasting your time, please look elsewhere.

I have met varied and interesting men and had some lovely times out.
Manchester is a city where many business men visit, some do not have time for an affair however would like a dinner guest who knows how to use a knife and fork, hold a conversation and possibly some humour. I have generally been able to assist with that. My process is still to be followed.

Compliments received include...

- %u201CYour profile and your attitude is rather refreshing.%u201D
- "Your profile initially put me off as I thought you might be a bit of a control freak and also possibly precious.... I realised it was the polar opposite."

- "Rather interesting dinner companion, Highly Recommended"

- %u201CLots of sensible common sense.%u201D
- "It would be very boring without you. You acknowledge my wife and I and you make me laugh"
- "Articulate, attractive, educated, intelligent, interesting, slim, sexy ... with a wonderful pinch of quirk!! Most people are overawed by me you make me laugh, you challenge me, I enjoy your company and you enhance my life."

- "I was worried you were too good to be true, wonderfully you're not"
- %u201CYou are much more in real life. A real woman, wonderful company for any occasion. Your presence makes everything around more sensual and beautiful."
- "You are like a Sunflower, enough warmth and your personality opens."
- "Perfect mistress ... good with secrets".
(I will say I am only 'practically perfect' ;-) )

To save some time and conversations,
- CLEAN SHAVEN ONLY please, no facial hair. It may be the fashion, you and your wife/girlfriend/lover may love it, its not for me.
- NON SMOKERS ONLY please. Trust me a non smoker can easily tell if you are.

I have been told that I am
- slim, (I put average as I know what I was 20 years ago, but due to so many claiming to be average and 18, 20 stone, thank you, you make me look good!!)
- great legs (especially in stockings, so I am told, again, and again) ;-)
- sexy, good at kissing, I am reminded, again, and again
- open minded
(private cross dressing has been accommodated, this was discussed in advance, so no surprises, happy to be contacted by couples)
- look younger than my age.
(A great letter on the letters page... PROUD TO BE 50ish https://www.illicitencounters.com/letters/view/id/458, not posted by me, however appreciated by me.)

How I dress varies, skirts or dresses, never trousers or jeans, a very feminine style which is loved by some.
Short skirts/dresses in winter is really not going to happen!

I do not have a lingerie collection!! Ex's never their thing so no purpose to it, and any attempt was not appreciated, nor do I have killer heels!
Several offers to take me shopping, however has yet to happen.

When possible I do have a natural tan, if laws allow, only one set of tan lines, rather than two. Really depressing as it fades.

I am not high maintenance, I do like to look nice, feel good, but do not cake myself in make up, no time, much prefer to do other things!

I can make my way around a dance floor, ballroom Latin and Salsa.

I do like to attempt some fitness, however my health often has different ideas. Attempt, cycling, walking and swimming only at a spa or hotel!
-
WARNING: Any institutions or individuals using this site or any of its associated sites for (case) studies, projects, advertising, sales, or any other reason, you DO NOT have permission to use any of my profile or pictures in any form or forum both current and future. If you have or do, it will be considered a violation of my privacy and will be subject to legal ramifications.
Ideal Partner:
If you are moody, had a bad day at work, home, sense of humour failure, you may wish to look away now, or return on a better day.
(I cannot emphasis this enough!! Too many conversations end in tantrums)

If you can place a smile on your face and a raised 'oh yes' eye brow, read on.....

Do you enjoy playing message tennis for it to be a complete waste of all parties time?
If the answer is 'no' PLEASE continue...

1) Do you appreciate someone who is organised, know what they are doing and will not play games, well not those types of games or dramas?
(I cannot emphasis this enough!! Too many conversations end in tantrums)
2) Do you read a persons complete profile before sending a message?
3) Will you send your password in any reply to this profile? (*Remember to enclose it with the message sent)
4) Do you live in, Manchester, visit regularly (for business), or be willing to find out where it is on the map?
5) Are you genuine about meeting and behaving as a grown up?
6) Do you have and use whatsapp or telegram (and prepared to use it to communicate with me)?
7) Are you a non nicotine addict, (do not chew gum, smoke or vape)?
8) Are you looking for (something more than in the words of Sex and the City "f*ckbuddies") someone to develop a friendship with, have an evening with, dinner, good conversation and ...
9) "Are you looking for the excitement of an old fashioned affair?" The fun, the flirting, the wining, the dining, ROMANCE!
10) Are you prepared to meet several times in public before ...
11) Do you have somewhere we are able to take things further?
12) Do you practice safe sex without any discussion, justification?
13) Is 13 an un/lucky number for you?
14) Are you aged 40+?
15) No, not kik or other, do you have and use whatsapp or telegram (and prepared to use it to communicate with me)?
16) Are you married (and will never leave) and or practice (consensual) ethical non-monogamy?

17) For the current abnormal times we must endure ... you ARE unafraid if the current named bug/variant going around 0.006%ish risk and are prepared to meet within a week to ten days!!!

18) Please provide with your reply the deaths and injuries from vaers and yellow card sites, for the current experimental injections :-)
If feeling academic you can include the euro, Australian sites and so on, just can never remember their names :-)

If you have answered yes to all of the above and still have a smile on your face, the raised 'oh yes' eye brow and keen for more, PLEASE do please send a message, *WITH the information requested* and I look forward to knowing you better.

Else, swipe left, enjoy your message tennis and conversations to silence....

So far the men that have come into my life this way, all are intelligent, well mannered, most are educated, professionals. I have a good rapport with all, they are FUN, some more flirty than others. They are all unique and I have a different time and experience with each, many have their own kinks. (Private cross dressing has been accommodated, this was discussed in advance, so no surprises. Happy to be contacted by couples.)
I was even thanked by one lady for being able to keep her partner company as they were unable to be together :-)
Other Interests:
Museums / Galleries, Literature / History, Dancing, Travel / Sightseeing, Movies / Cinema
Gifts Received Recently :






Currently online:
Registered Users: 273