stevef77f
52, Galway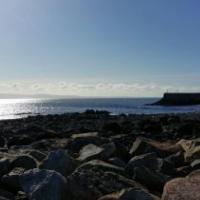 Married, Slim body
5'7''-5'11'' (170-180cm)
Looking for: Friendship, Short Term Relationship, Casual, See how it goes
Caucasian/White, Non-Smoker, Light / Social Drinker
Occupation: IT/Communications
Education: Graduate/Masters Degree
Eye Colour: Blue
Hair Colour: Blonde
Religion: Catholic
Looking for Female between the ages of 35 and 99
Star Sign: Leo
Last Active: He's waiting for you!
About Me:
A few words to describe me, that can't be hard
If only I could download my Tesco club card
They know my habits, my likes, my style
It would quickly complete this lengthy profile
One Sunday morning a stolen glance, a winning smile
A lady smiles back in the fruit & veg aisle
A harmless act, a simple greeting
My thoughts are filled with an illicit meeting
I steal once last look from behind some greens
The end certainly justifies the jeans
So I find myself upon this site
Not quite knowing what to write
Some profiles complete with shopping list
Must be tall, solvent, won't accept  a virtual kiss
A few things you have to know
Discretion required, preserve the status quo
I don't wish my partner to become my ex
In my quest for friendship and perhaps some passionate sex
I wish I knew what I was after
Some fun ,perhaps to roar with laughter
My first mail, now, what to say,
"hello", "hi", "how was your day"?
Is that enough to stand out from the crowd
Perhaps a small white lie, did I mention I was well endowed
A reply comes back, too tall, too fat, much too thin
For some it's actually what lies within
Standing by the mirror, gazing at my reflection
Trying to ignore each small imperfection
My hair, my teeth, still in place
Not many wrinkles upon my face
Sometimes I feel I'm lost at sea
A steady course on a starlit sea
No risk, no change, life is good
So why I'm feeling in this mood
A storm, a squall, some white horses
A chance to steer some different courses
So if you like please do take note
Perhaps you'd like to rock my boat
 Some insist "you must smell nice"
A liberal dowsing of Old Spice
Apologies if that's not exactly what you meant
Are you holding out for one that's Heaven Scent
I have no rules other than you must love life
And yearn to escape this daily strife
So now I've come to the end of this verse
If you like it let's converse

Slim, blonde hair quite fit, keep active,cycle a lot, enjoy good food with friends socialising, Not carrying any extra weight, best features are my sharp wit, my good listening skills and youthful good looks.Clothing style, what man can answer that, i'm not a labels man nor indeed sloppy dresser, wear what suits me and that seems to work.
Ideal Partner:
Ideal partner would be mature woman who looks after herself, witty,hidden desires.Must be able to have fun and flirt. Like women who know what they like. Excitement and fun, essential ingredients in everyone's life, life is for living not just getting through it unscathed. I'm not "a player" so not into notches on the bedpost, like to get to know someone, connect and see if we can make each other laugh, get to that point where you both waiting in anticipation for next contact, be it text,mail or personal. I have no hard and fast rules on appearance, a winning smile is always nice, as are surprises. Loud and brassy are a turn-off, though self-confidence is a plus. I know you are out there somewhere, send that mail and let the adventure begin.If its fun u seek then go ahead and hit me up
Other Interests:
Gardening, Music - Alternative, Music - Pop / R&B, Music - Rock, Music - World, Literature / History, Cycling, Football / Soccer / Rugby, Computers / Internet, Travel / Sightseeing, Volunteer / Charity, Movies / Cinema, Food and Wine
Gifts Received Recently :






Currently online:
Registered Users: 698