E. Edward Grey
60, London (North West)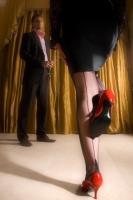 Married, Average body
6'0'' (183cm) or above
Looking for: Short Term Relationship, Long Term Relationship, See how it goes
Caucasian/White, Non-Smoker, Light / Social Drinker
Occupation: Executive
Education: Graduate/Masters Degree
Eye Colour: Brown
Hair Colour: White / Grey
Religion: Agnostic/None
Looking for Female between the ages of 35 and 65
Star Sign: Libra
Last Active: Within 24 Hours
About Me:
I am a 60 year old married man living to the North West of London. I am looking for some extra excitement in my life and yours and the opportunity to explore our sexuality and fantasies.

I am easy to get along with and very straightforward. I don't have time for game playing. I know why I am here and what I am looking for. I'm well educated, have lived and worked overseas, can hold a good conversation and have a naughty sense of humour (see public photos).

I'm tall (6ft 3ins), well built with brown / grey hair and in reasonably good shape. I exercise but am not a slave to it. I dress as required, from a suit and tie for work to jeans and a t-shirt for casual and most things in between. I think my best feature is probably my height (so many of you are looking for tall men) and of course my rather wicked mind.
Ideal Partner:
Hi and thanks for looking at my profile.

I am looking for something fairly specific and maybe a bit different from most on here. A lady who is looking to explore her submissive side as part of an illicit affair. I should also add that this profile was written before 50 shades came out so I am not jumping on the current fad.

You will likely be married although not necessarily and probably very much in control of your life. But secretly you have often had fantasies about relinquishing that control and exploring all those "wicked" thoughts. This is not all about inflicting pain and I'm not looking to live a BDSM lifestyle. It's about the subtle issue of consensual power and control over another person. If you've had such thoughts or some experience, you will know what I am talking about and I am well aware that it takes time to build the necessary trust in such a relationship. I should also make clear that I am looking for this as part of a relationship, not the whole of the relationship and that it should be fun too.

Personality is more important than looks. Looks are not everything and while I'm not insisting on supermodel skinny, curves are most welcome but I'm not attracted to seriously overweight women. You will have a body and a mind that are both worth exploring. Most importantly you will have the right attitude.

I am not looking to change anybody's marital status, especially mine but I am looking for much more than just a one night stand. Ideally I would like to meet reasonably often but not too regularly. A certain sense of anticipation needs to build.

As mentioned, my interest is fairly specific although not rigid and my ideal partner also needs to be within a reasonable travel distance. Central / North West London and the surrounding home counties would be ideal.

So if you like what you read please get in touch. Many profiles do not mention any thoughts of submissiveness so if yours doesn't but you are nevertheless interested, then get in touch as otherwise I might just miss you! Just a few other thoughts arising from previous experience on this site:

If your profile talks about the need for discretion and you then ask for my password before you will even swap any mail then you clearly don't understand the meaning of the word discretion. I will only give out my password once I get to know a bit about somebody and feel comfortable doing so.

It helps get a dialogue off the ground if you can explain up front what your interest is. Have you been submissive before? Is it a serious desire or are you just curious? I have no problem responding to the occasional curious question but I do like to know that up front.

I am a great believer in what I would term just common courtesy. If I decide not to continue a conversation then I will write and say so. I expect the same courtesy from those I chat with. Doesn't cost anything more than a few seconds of your time.

I look forward to hearing from you.
Other Interests:
Cars / Motorcycles, Music - Rock, Football / Soccer / Rugby
Gifts Received Recently :






Currently online:
Registered Users: 663