SeldomSeen
64, Brighton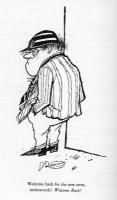 Married, Average body
6'0'' (183cm) or above
Looking for: Friendship, Long Term Relationship, Romance & Fun, Casual
Caucasian/White, Non-Smoker, Light / Social Drinker
Occupation: Advert/Media/Entertain
Education: Bachelors Degree
Eye Colour: Blue
Hair Colour: Black
Religion: Church of England
Looking for Female between the ages of 40 and 60
Star Sign: Libra
Last Active: Within 24 Hours
About Me:
I am a big grown-up boy with no obviously unpleasant habits. In the right light I am reasonable-looking (but hideous in the wrong light). I don't do hobbies - I do lunch. A word of warning, however: I am what the majority of you would call posh (ghastly word). That means I talk proper(ly). So if you love the sound of Estuary English, want someone who watches football on TV, drinks lager dahn the pub wiv der lads, has a bald/shaven head, a revolting goatee beard (think TV's Mr Sex Andy Parsons) and/or tattoos (serial killer chic as I like to call it), then, once again, I am not for you. Conversely, if you want a well-spoken, well-mannered, well-dressed man with long experience of life, who can hold a conversation, spoil and pamper you, then that's me.I am a battle-scarred veteran of internet dating sites and I know the way this game is played. I can tell from reading someone's profile, what sort of person they are and whether they fit my requirements and whether I fit theirs. If you can do the same, then we're on the same page.

I am 5ft 11ins tall. Never made 6ft. Curses. I don't wear heels well so you'll have to put up with 5ft 11ins. My best features are my eyes and hair (so I am told, though personally I cannot see my eyes. You try looking at your eyes. Can't be done. Except in a mirror, of course). I am hurtling towards 64 (might even have got there by the time you read this). Whatever pre-conceptions/prejudices you have about men over 60, throw them out the window right now. I don't fit the cliche. I don't sit behind a desk 8-10 hours a day. I am do-er not a dreamer.
Ideal Partner:
Read this bit and ask yourself these questions: Are you 'bubbly'? 'feisty'? 'fun loving' ? Can you name a character from Eastenders? Do you read Hello/Closer/Heat? If the answer to any of these questions is 'yes', then I am not for you. I'm sorry but I cannot abide people who talk only in cliches or whose opinions spring fully formed from the pages of The Daily Mail. Looking for: A mutually fulfilling, extra-marital relationship; sexy, secret and fun. Nothing too heavy but, then again, nothing superficial or casual either. NOT looking for: poor spellers or people what write only in txt spk; those who don't understand what this site is about; endless e-mails and no meet; people who scan a pic of a 'slebrity', crop off the head and then pretend it's them in the picture (you can take dumb too far on occasion...). Most of what I have written here is designed to deter the mundane, the mediocre, the lazy and the downright idle. Therefore, if you have read all this carefully, and agreed with at least some of it, then I am probably worth a second glance.
Other Interests:
Arts / Crafts, Museums / Galleries, Cars / Motorcycles, Music - Classical / Opera, Music - Blues/Jazz, Music - Pop / R&B, Music - Rock, Politics, Cycling, Cricket, Golf, Motor Racing, Tennis / Racket Sports, Theatre / Ballet, Cooking, Food and Wine
Gifts Received Recently :






Currently online:
Registered Users: 864