Per ardua
52, oxford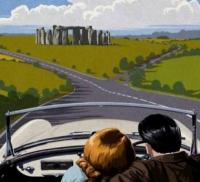 Married, Average body
6'0'' (183cm) or above
Looking for: Short Term Relationship, Romance & Fun, Casual
Caucasian/White, Non-Smoker, Light / Social Drinker
Occupation: Education & Science
Education: Doctoral Degree/Ph.D
Eye Colour: Blue
Hair Colour: Brown
Religion: Agnostic/None
Looking for Female between the ages of 40 and 59
Star Sign: Libra
Last Active: Within 24 Hours
About Me:
How to begin to describe my many and varied facets? Or perhaps I don't have to describe most of them because you will see me in my fun, 'let's go out and have a good time' mode most of the time, albeit with a tantalising hint of what lies beneath as you get to know me better. Yes, I have a hinterland which may surprise some, but then you don't want to have an old-fashioned affair with an individual tortured by existential angst and guilt-ridden about the state of the planet...do you?

In a nutshell, I know I am more than capable of putting myself and my pleasures first at times, and I am looking for someone who feels the same, and indeed hope that all these pleasures can be mutual and sought, found and indulged with gusto.

Life is short, the hill has been a long time a-climbing, and now I am ready to freewheel down the hummocks and simply enjoy the ride! You will find me a mix of the cerebral idealist and the libertine, open-minded, knowledgeable, empathic, easy to talk with, gently humorous, experienced, generous with time and money for hedonistic pleasures, and also surprisingly naughty in my way.

Physically, I am tall at 6'3", solidly built, not overly photogenic in the selfie sense, or maybe I have yet to find the right filters, but seemingly quite attractive as an overall package to the woman who might 'get' my slightly rumpled persona. I use my brain a lot for my work, but also enjoy long walks, cycle rides, sailing my boat and a host of other moderately athletic delights. I believe I have matured rather well, but will leave others (you?) to judge.

Ideal Partner:
You must be confident, young at heart, and with no doubt about what you are looking for, namely the same as me: an affair, which involves plenty of contact, chat, times for putting the world to rights, lunches, and some lazy afternoons, evenings or nights together for indulging our senses. Most of all, I want to feel valued and special in your eyes, so you must have the time for me, and sometimes give me the impression that you put me first in your hectic schedule, if only for an afternoon, evening or overnight every two or three weeks. In return, I guarantee you the same, with interest.

Of course we all have busy lives, with dependents, and stuff happens, but sometimes you just need to take the time to look after number one, and remind yourself that you too are an individual with needs and desires. I do not want to be at the end of a very long 'to do' list, I want to be first, and the one you just might just drop everything for (oooh-er) when the opportunity arises!

At the same time, discretion and emotional boundaries are important as this glorious fun and passion we both seek should not get out of its special clandestine box. For that reason, I would prefer you to be married or at least reasonably settled in your life, not looking for a convenient parachute so that you can bail out of your situation!

Spontaneity and verve are things I love in a woman, along with a degree of self-knowledge, humour, and an adventurous spirit. You will see that I am good at putting my thoughts into writing, but this is merely a means to an end: I do not want an endless exchange of messages, I should like to meet you in the flesh, as it were, and sooner, not later. Of course I will think of you most days, and my messages will tell you this, in between our trysts! Shall we..?

Other Interests:
Arts / Crafts, Museums / Galleries, Cars / Motorcycles, Literature / History, Cycling, Sailing / Boating, Movies / Cinema
Gifts Received Recently :






Currently online:
Registered Users: 74