Per ardua
52, oxford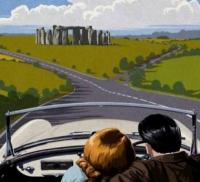 Married, Average body
6'0'' (183cm) or above
Looking for: Short Term Relationship, Romance & Fun, Casual
Caucasian/White, Non-Smoker, Light / Social Drinker
Occupation: Education & Science
Education: Doctoral Degree/Ph.D
Eye Colour: Blue
Hair Colour: Brown
Religion: Agnostic/None
Looking for Female between the ages of 35 and 59
Star Sign: Libra
Last Active: Ask him for his best chat-up line
About Me:
I could write a lot on here to justify myself, and to make myself seem mysterious and exciting, whereas in reality I am yet another middle aged man looking both ways from this interesting vantage point where I now find myself. I can look back over some great times, at places I have been and people I have bonded with over the years, and at low points too. Haven't we all been there? Now I am looking forward, to what life still has to offer. It is all too easy to become defeated by stultifying routine, in negativity and gloom about the passing years. But here I am, 'still standing' and in the words of the admittedly somewhat absurd but gloriously defiant song 'looking like a true survivor, feeling like a little kid'...

Here I am, a reasonably preserved, tall, healthy, slightly weather-beaten, but not ugly man, at the top of the hill, but definitely not over it.

So, I ask myself, what's next? More good times, more adventures I hope, and perhaps some of them shared with a new special person who feels the same way.
Ideal Partner:
So, you've got your problems? Hey, I got'em too! You will above all be interesting, perhaps slightly flawed, and wear your scars proudly and with boisterous good humour! I like to read the lines, and the spaces between. Variety is a wonderful thing, and I should hate to think I am precluding anyone from exploring this pond together.

What is life if not a series of moments? So let us enjoy the moments as they come, our time in the sun before the inevitable rain clouds pass by once again. Can we sit in tea shops, walk a path less travelled, and find shelter far from the madding crowd? Why, yes, get your coat!
Other Interests:
Arts / Crafts, Museums / Galleries, Cars / Motorcycles, Literature / History, Cycling, Sailing / Boating, Movies / Cinema
Gifts Received Recently :






Currently online:
Registered Users: 67