TheBestisYettoCome
45, Gloucestershire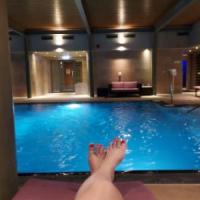 Separated, Average body
5'7''-5'11'' (170-180cm)
Looking for: Friendship, Long Term Relationship, Romance & Fun, See how it goes
Caucasian/White, Non-Smoker, Light / Social Drinker
Occupation: Self-employed
Education: College
Eye Colour: Blue
Hair Colour: Brown
Religion: Church of England
Looking for Male between the ages of 40 and 60
Star Sign: Libra
Last Active: Online Now!!
About Me:
Not actively looking anymore if it happens it does but it's too much hard work and too many let downs .

Before reading further, if you like road biking as much as sex we will get on, if your not into road biking not interested, because I'm not just looking to spend time between the sheets you also need something between your ears too.

I don't think it matters what I put on here anymore, all men seem to want is me to prove my sexual worth to get a date.

I'm not after your bank balance or more shoes than Imelda Marcos....I earn my own money and work hard to look after my child who is growing into a teenager now.

However it does not mean I don't like a bit of spoiling flowers, and a spa, don't all women like that especially with a nice man bobbing around in the bubbles.

This has to be right, im not here to play games I don't want drama in my life, but I'm not selling myself short.

I put my picture up so you can see from the off. I get so disappointed , so many profiles never live up to the big reveal 😞.

If you are over 60 unless your fit as or have a huge bank balance, young women are not going to be interested. I'm 44 and I know I'm not going to bag Brad Pitt, or Daniel Craig, but I might still get a good version of Bruce Willis 🤔 or Ross Kemp at a push, we all need to be realistic.
Ideal Partner:
If you can't go a day without alcohol not for me sort yourself out, and if you take any other coke apart from the fizzy drink get a life, I honestly can't believe the caliber of the people on here.


if the minute i start talking to you , you steer every conversation round to sex jog on, no woman should have to prove her sexually worth via text , emails or phone calls to get a date, do any of you men not realize less is so much more attractive ..


An affair is a regular meeting, once a week at least, and getting to know that person ....a meeting in a hotel room once ever few months....is a leg over, and FB.....I'm not guliabl enough to sit by the phone waiting for that....


There are lots of single people here now, you just have to find what encounter is right for you, without selling yourself short.


I'm looking for someone who can laugh at them selves and understands banter. Someone who is honest and tells it like it is, I don't have expectations as expectations lead to disappointments. I would like the respect I feel I deserve, and no one that is going to mess with my head, with false promises. It would also be a bonus is you like fast cars or bikes, I need someone to discuss whether they think The Grand Tour is Better than Top Gear, although I have always found 5th Gear more informative at times x

Must like James Bond Films , and cycling I'm big into my cycling since lock down, and my new toned legs...

Xxx


Other Interests:
Nature, Museums / Galleries, Cars / Motorcycles, Gardening, Music - Blues/Jazz, Literature / History, Cycling, Motor Racing, Theatre / Ballet, Travel / Sightseeing, Movies / Cinema, Food and Wine
Gifts Received Recently :






Currently online:
Registered Users: 745