Mr.Mischief
51, London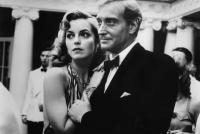 Married, Athletic body
6'0'' (183cm) or above
Looking for: Romance & Fun
Caucasian/White, Non-Smoker, Regular Drinker
Occupation: Executive
Education: Bachelors Degree
Eye Colour: Blue
Hair Colour: Blonde
Religion: Catholic
Looking for Female between the ages of 35 and 50
Star Sign: Gemini
Last Active: Within 6 Days
About Me:
Toe curling to describe oneself but as it appears I'm up against 3000+ guys it's every man for himself, so here goes..
Cultured, go to the theatre and opera regularly, avid reader and strong interest in current affairs. Watch a lot of films, though mostly at 20,000 feet on a small screen ( I travel overseas a lot for both work and pleasure).
Cycle, play tennis, swim, ski, sail occasionally. Not the sort of bloke who has hobbies or a shed.
Sophisticated, foodie-ish, enjoy both cooking and the wonderful restaurants of London, and I do know my wines.
Gregarious with a ready wit (I will make you laugh, promise!).
Conceited - moi???
My marriage is fine, but understandably after many years now lacking in certain areas....(nod agreement at this point please).
I have a good life, and am very happy and grateful for that, but I desire some passion, romance, fun, escapism...and great sex.. and I assume you would not be here if you didn't want all of that too......so let's do it, let's..😉
Bearing in mind we all have busy lives, and to make the most of the little time we get for ourselves, I would like to meet someone who also lives and/or works in London or who stays in town on a regular basis.
I manage my own time so I'm flexible but prefer to meet during the week in the daytime though can do some evenings. A very occasional weekday overnight with planning perhaps but not weekends.

Tall (6'2"), fair hair (thick mop, not a baldie), blue eyed, muscular (but not bodybuilder type), broad chest and shoulders, fit, classical good looks (c'mon I've got to get a march on those 3000 other guys).
I would say "rugby player" build but that could in fact mean one of those rotund guys with a broken nose, cauliflower ears and a neck thicker than his head (so watch out for those chaps Ladies, he may even be Welsh).
So I'll go for "rower" physique..you're better off with an oar than a hooker.
Ideal Partner:
I don't have a physical type but please note I am on the tall side. Though height differentials can be cured by elegant high heels of which I am a great admirer and, whilst we are on the subject of feminine enhancements, I do have the same feelings for exquisite lingerie...Incredible I know, how often you find a man who likes both!!
However I would like to meet a woman who is independent minded, intelligent, a stimulating conversationalist and a lover of life. Whilst it's good to have some common interests (see above) I do love to discover new things - so if you understand and can explain particle physics please get in touch asap.

Other Interests:
Museums / Galleries, Music - Classical / Opera, Music - Blues/Jazz, Music - Pop / R&B, Music - Rock, Politics, Literature / History, Cycling, Football / Soccer / Rugby, Sailing / Boating, Ice / Snow Sports, Tennis / Racket Sports, Water Sports, Theatre / Ballet, Travel / Sightseeing, Movies / Cinema, Cooking, Food and Wine
Gifts Received Recently :






Currently online:
Registered Users: 793