SecretSt
59, Northampton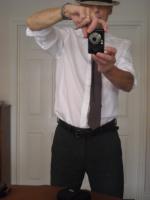 Married, Slim body
6'0'' (183cm) or above
Looking for: Friendship, Long Term Relationship, Romance & Fun, Casual
Caucasian/White, Non-Smoker, Light / Social Drinker
Occupation: Engineering
Education: Graduate/Masters Degree
Eye Colour: Grey
Hair Colour: White / Grey
Religion: Protestant
Looking for Female between the ages of 35 and 70
Star Sign: Taurus
Last Active: Within 4 Days
About Me:
LADIES, DO READ MY NEW AND IMPROVED PROFILE AND LOOK AT ALL MY NEW PHOTOS Thank you for taking the time to Iook at my profile and photos. I like to make a fuss of a lady with my time and attention. I am a polite gentleman, but I am also transparent, quietly assured and quite direct; I will propose that we move on quite quickly but I will also listen and respect your wishes - you shouldn't be afraid to speak out because I won't be offended. Whilst I enjoy all aspects of the company of women, especially good conversation and cheeky banter, I am here primarily for a sexual relationship and I crave to be active and attentive in bed. My attention span will not disappoint and a naturally submissive woman will be especially welcome. If you would be happy to snuggle up beside me, and for me to kiss you amongst your warm tussled hair and whisper 'Good Girl' do read on. On the other hand, women have complained of being demeaned and we would need to set some limits. I love risque and fantasy driven pillow talk. I have amused myself by committing some of my fantasies to paper; none are complete but I may be persuaded to let the right woman read them. Perhaps you could help me complete them? I have found women to be especially shy about their fantasies, or perhaps they are reluctant to ask for too much; I would love you to indulge me with your private desires.

I am tall and slim but I confess to not being a silver fox; no moss grows on a rolling stone ….. etc…., or that is my excuse. If you want to run your fingers through luscious locks sadly I can't help; I don't have facial hair either. I wear a suit and tie to work and prefer smart/casual clothes otherwise. I have photographed a small sample of my ties; perhaps these will help bring us together. I take relaxed holidays in Europe and enjoy the history, tradition, food and wine of the destination. I am a Europhile.

I am very discrete and ensure that pleasurable diversions fall within the pattern of my work commitments; therefore I cannot always offer the spontaneity that some women seek. l work independently and have flexible work commitments therefore I can find time to meet during the working day, some time at weekends and the occasional evening.

Best Wishes

S
Ideal Partner:
I am looking for a smart, feminine and well-mannered lady who has a healthy libido, an open mind and who is perhaps, like me, adventurous behind closed doors. If you are that lady you might be demure and submissive at times and playful and suggestive at others. I am a 'femininist' and I like to encourage women to use their femininity. I like women who are confident in their sexuality, value the importance of 'good sex' (our respective definitions of the same would make a good topic for online chat) and are looking to test their sexual boundaries.

I like nice smiles (lets face it all women are attractive when they smile), feminine mannerisms, cheeky humour and the minimum up front; sadly, ladies who categorise themselves as curvaceous or cuddly, beautiful as you all are, are likely to be just too much .... sorry.

We would enjoy ourselves especially if you were comfortable in having an intimate affair and if you could cope with the adult adventure that one entails; especially the planning, the secrecy, and yes it has to be said, the deceit, the being where we shouldn't be, the being with someone whom we shouldn't be with and most of all the doing what we shouldn't be doing. I imagine that you will be leading a fairly independent life already, in order to make an affair work and to keep it secret. You could be married, separated, widowed, divorced or single and you will be between 35 and 70 years old and scrupulously discrete. Ideally it would be lovely if you were able to accommodate from time to time.

Well that is a lot to ask for! I can only dream. Never mind, if you do exist, it would be lovely if you were to get in touch. I don't bite you know, that isn't part of my adventurousness! Oh did you want me to do that? That would be my pleasure dear....
Other Interests:
Cars / Motorcycles, Music - Alternative, Music - Blues/Jazz, Music - Rock, Politics
Gifts Received Recently :






Currently online:
Registered Users: 449